Are you ready for spring? We are!!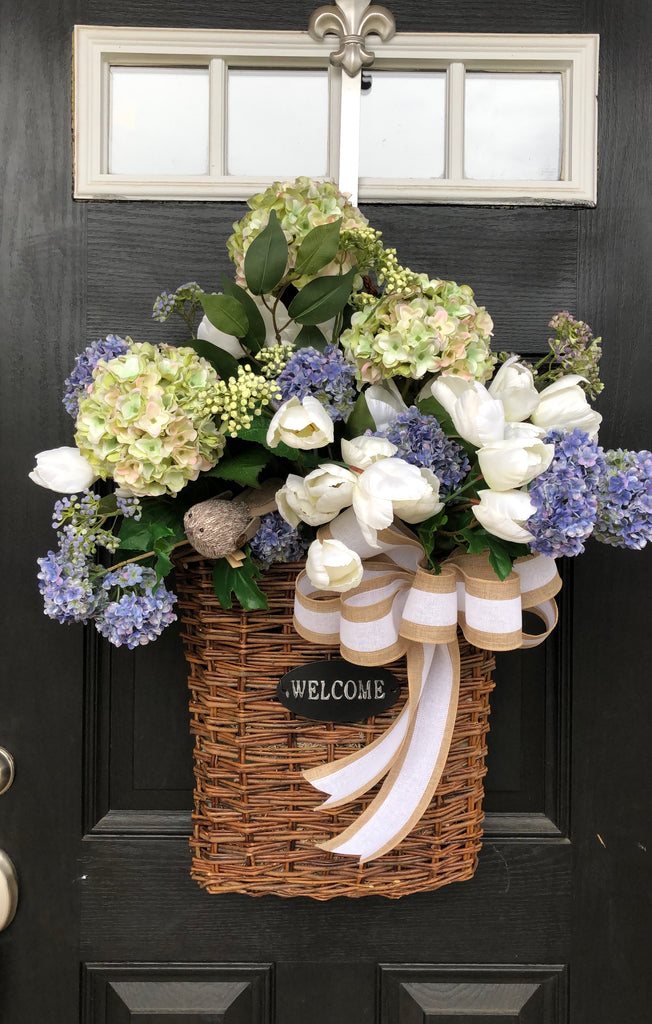 I can not be more excited for Spring to get here! I have had so much fun decorating the store with all our new Spring products. They are all so fun and cute and I want to keep them all for myself! I wanted to share a few of my new favorite Spring products to do a quick transformation of your front door with minimal effort on your part and under $200!
Spring Door Basket ($169.95) - This basket is perfect to liven up this drab weather and bring some color into your life and to your front door! I love these gorgeous mint green hydrangeas, purply snow ball hydrangeas, and classic white tulips all in this beautiful willow woven basket with a rustic "WELCOME" sign. It is finished off with a white stripe linen bow. Did you see the little bird hiding in there? Isn't he cute? I am so in love with this new Spring basket!
"HOME" Door Mat - This woven Door Mat is so simple and invites everyone into your "HOME"! ($29.95)
Come visit us in our McMinnville Store (at 536 NE Baker St.) or by clicking on the product name to purchase here online!
You can even purchase a couple items from the door arrangement separately for additional uses around your house:
Welcome Basket ($29.95) - This basket is woven from willow branches and offers so many uses within your home! Fill it with branches or flowers to hang on a wall, use it to store magazines in the bathroom, or use it to store utensils in the kitchen. A great rustic addition to any home. 14"x5"x15"
Bird Ornament ($6.95)- This cute little guy can be purchased separately and added to any of your current wreaths or arrangements.