Many Thanks and a New Year Home Tour - Part 1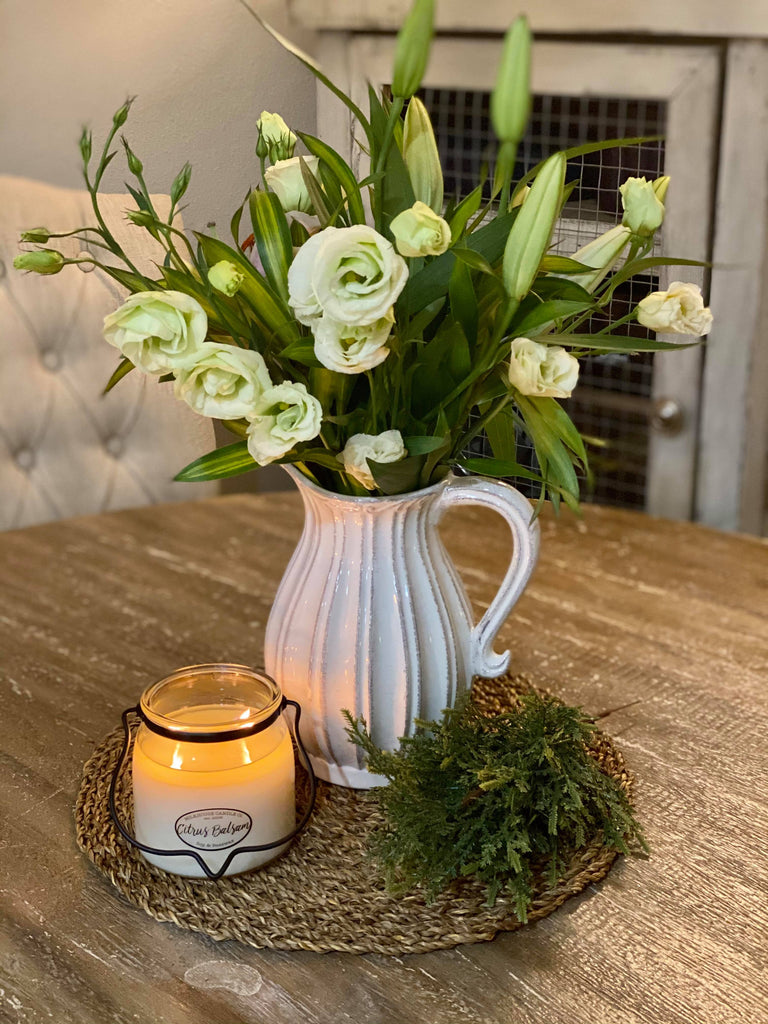 I apologize to you all for not posting on the blog for a while. It has been a busy, busy year for us here at FleursdelaVie! The Fall and Christmas seasons were incredible thanks to you all! I made so many beautiful wreaths for so many new and returning customers over the last few months. I appreciate everyone who has ordered from me this past year and all those who I see monthly at our open houses. You are an amazing bunch!
So...last year was, well, interesting for everyone. I am so excited for a new year, new goals and new decor! So, I want to know!
Do you have New Year's resolutions that include new decor or organizing your home?
How do you decorate after Christmas?
Who is looking for a fresh new start and over their old decor? 
Who just needs to refresh with some pieces?
I can tell you, after the Christmas season, I am just so worn out, but then I get this NEED to redo and reorganize my house. From reorganizing all the rooms and closets to refreshing some of my decor, with new pieces and reusing some well loved pieces, I think we all are looking for a refresh and to clear out the clutter this time of year. Today I am going to talk about how rugs, flowers, candles, pillows and curtains can all add different elements to your New Year's decor. 
ADD A RUG! One of the easiest, least expensive things to change when you are decorating is your front door rug. Usually you can do this for under $40 easy! I had this cute grey buffalo check rug already. By adding this beautiful Chindi rug under the buffalo check one, I have added extra space as you enter my front door, but also added some depth and texture to my entryway. The rug was $39.99, but you know Hobby Lobby, you hardly ever pay full price for anything. I got this for 1/2 off so I only paid $20! They still have the rug and you can find it here!
FLOWERS AND CANDLES! I know, I know. Here I am, the wreath and flower lady, recommending flowers. But I promise you, it can cheer up and refresh a room with minimal effort. Start with a vase. I don't have this specific one in stock any more, but I have one similar in the shop here that would be beautiful for any decor. Then pick some floral stems and some green filler. White florals are of course beautiful and simple. I like to mix 3-4 different kinds of floral stems and greenery in my vases. A great tip: I have taken my vase with me into my shop before and made the arrangement right there. If you forget your vase, find something in the shop that is similar. Then you know how many floral stems you need and eliminate extra trips. Candles are another great way to add to your space and the smell can lift your spirits. This Milkhouse Candle Company Citrus Balsam candle is perfect for this time of year.  It is a little bit of Christmas left over with an uplifting citrus scent. Check out the Milkhouse Candle Company candles I carry in my online shop.  The Aggie's Soy candles are amazing as well! Both companies have some wonderful scents that will please anyone. They also make great gifts!
PILLOWS AND CURTAINS OH MY! I may have a pillow and curtain obsession. Ok, I do!! I really do. You can make a room with curtains. I love florals (I know right?!?!), so when I saw these curtains at Pottery Barn, I had to have them! Aren't they just gorgeous!! They showcase my love for florals and add a pop of color to my other neutral colored decor. TIP: hang your rod near the ceiling instead of just above the window like we have all been advised for years. Buy longer curtains and your windows will look larger and thus, your room will look larger. Next, pillows. Oh, how I love pillows (check these out that I carry in my online shop). Pillows add depth and texture to your room and are easy enough to change out with the seasons if you choose. 
Check back next week for more exciting ways to update your decor!
Follow me on: