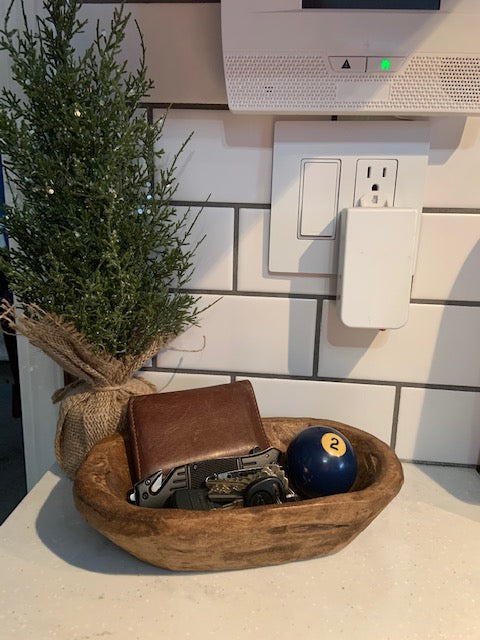 I just love this little bowl. It is a unique addition to your decor due to its petite size (it runs about 9 inches long). Whether you have traditional, modern, farmhouse, or no specific style of decor, this little guy will fit right in. I love the wood tones and weathered look that it has.
This corner is fairly useless in my house and it soon became a dumping ground for all my husband's stuff from his pockets when he got home from work. I didn't want to take away his "spot", but I am a bit of an OCD personality type and it needed something to look a little more organized. I am so glad I got this little bowl! My husband's wallet, pocket knife, and keys all fit without an issue  and it makes it look more eye pleasing than just a pile of "stuff" haphazardly thrown on the counter (side note: the pool ball is a vintage pool ball from the bar his grandpa used to own from the late 1960's to mid 80's.). 
Another option, throw some little dainty flowers in the bowl or some greenery. I used one of the little greenery bunches I picked up from Hobby Lobby I had "around" (I may have a floral addiction like Jenny) and put it on the mantel under the tv. I don't have a huge space here, but it fits just right. Simple, yet does the job of adding some wood tones and some texture to my space. 
 You can find this Petite Wood Bowl on the Fleursdelavie website. 
This blog post was written by guest blogger and product reviewer Stefanie LaCava. Stefanie lives with her husband and two kids in northern Indiana. 
Shop Small, Shop Local
Follow Jenny on: 
Continue reading